Hi folks it's Friday, so that's means it's time for another Friday fiction spotlight. All the titles I'm featuring this week are FREE on Story Origin in exchange for signing up for the authors' newsletters.
First up, check out Daughter of Cloak and Mask by Lauren MD
Trice was raised in a gang as a city thief, where morals were non-existent and punishment could cost you a hand. But both were better than starving on the street or being sold to the brothels. When she is offered the chance to earn her freedom—there's nothing that would stop her.
Having already suffered serious injuries at the hands of the guard, Trice's only choice is to join the ranks and turn informant on her former guild. Surprisingly, the guardsman sent to act as her handler was not what Trice expected, and before long her feelings for him begin to grow stronger. However, she is all too aware that her long-time friend has been taking risks to win her affections, risks that could draw unwanted attention to both of them.
With her loyalty stretched thin, Trice must navigate her new role carefully. The desire to survive has never been greater, and it all lies in whom she decides to trust, and whether she should follow her heart.
Download your free sample today!
Next up a magical steampunk adventure about a pop singer with a dark past.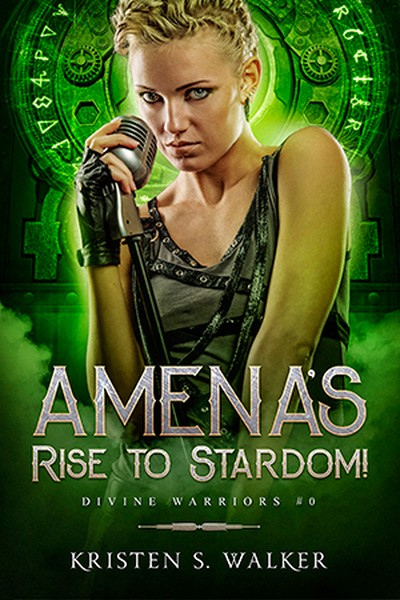 Fifteen-year-old Amena is a spy and thief for the rebellion, but she dreams of being a singer. Fame seems impossible when she lives in a hidden village in a remote part of the empire. But when she gets arrested on an easy recon mission, a magical doorway appears and offers her a way out.
When the goddess of the rainforest offers Amena a chance at her dreams, she chooses to risk it all. Leaving behind the rebellion, her mother, and everything she's ever known, she can finally start her singing career. But the goddess's magic comes with hidden costs.
Joining the big competition, Star Search, Amena tries to balance her music with training as a divine warrior. She must serve the whims of the goddess and avoid her criminal record. A rival singer takes her breath away—but she's hiding her own secrets. Her new life is more dangerous than the spy game she left behind.
Is the price of fame too high when death is on the line?
Find out in Amena's Rise to Stardom by Kristen S. Walker.
How about a post-apocalyptic princess story?
Of course, 14-year-old Robin worried about her grandma living alone in the forest. With her mother deployed in the Royal Guard and her brother running a criminal empire, Nonna was the closest family she had. But she never imagined that knights would show up to arrest Nonna and throw her into prison—for crimes Nonna definitely committed.
To save Nonna from a slow, lonely death in jail, all Robin has to do is travel to the nation's capital city, find a mysterious contact, and break her grandma out of a high-security prison. Except she has no papers, no money to travel, and no family to accompany her.
Robin faces an impossible choice: let her beloved Nonna stay in prison forever, slowly weakening under a cruel government's torture… or find the strength to resist the government alone.
If you're a fan of The Selection's world of royalty, Marissa Meyer's futuristic Cinder, and Grimms' imaginative, twisted fairy tales, then you'll fall in love with Hood!
Read Hood today to enter the thrilling dystopian fantasy series Post-Apocalyptic Princesses.
When hope is just a flicker, trust a dragon to light the flame.
Fliss is the youngest princess of Bright Wing, a tribe of dragon shifters defending Faery against the enemy Shades. She yearns to fight, but now she's stuck at school far away. The situation is ridiculous. Intolerable. How can she save the world when she's forbidden to fly after curfew?
The school at Penriva House is far outside the battle lines. The students are safe, or so everyone believes. But Shades attack Fliss before she arrives at the school, and now there are signs the enemy is hiding just beyond its walls. When the headmistress ignores the evidence, Fliss has to wonder whose side she's on.
Terrified, Fliss is unsure where to turn with the secret she uncovers. There's no clear way to save her newfound friends, much less herself. Does Fliss run, or risk all and fly into battle, one small dragon against a host of perilous foe?
If you like stories of supernatural adventure, courageous heroines, and a touch of romance, you'll enjoy this bite-sized prequel to the Crown of Fae series.
Last but not least something for your little ones. A selection of free stories for children of different ages.